Homicide Store
Videos, books, t-shirts, music, and other merchandise related to Homicide: Life on the Street.
Video FAQ - new info!
Get more information about DVD and video releases of Homicide.
Scripts on the Street
A project to get transcripts of episodes online. Scripts are posted here as they become available. Volunteer to transcribe your favorite episode, you know you want to.
Why We Hate Tom Fontana
Tom Fontana said it existed, but it didn't. So we made his delusion a reality. No, we don't really hate him (it's a joke, folks).
alt.tv.homicide
The best place to talk about Homicide with other fans. Be sure to lurk for a while and to read the FAQs before posting (FAQs available at The Links, below).
Partners and Other Strangers
What were your favorite pairings over the years? Why?
The Links
Updated frequently with links to the latest Homicide articles available online. Also has links to all sites, episode guides, chat transcripts, everything relating to TBDSOT. Accept no substitutes, start here for Homicide information.
"And no wonder Homicide, always game for something different, sometimes stumbles creatively. But its brazen unevenness is a small price to pay for the occasional episode that soars so far above TV's usual fare that, when it's over, you don't marvel at how this was a great Homicide, or even great television, but at how this was a flat-out unforgettable experience."
- Frazier Moore, Associated Press
Mere words can't do a show like Homicide justice, it requires visual images, music . . . plus a dash of emotion, a shot of intelligence, an ounce of grit. And huge helpings of laughter, with spatterings of tears.
I love the show. I know many people who are turned off by the name of the show, by the subject, by cop shows. They truly don't know what they're missing. Because this show is not about death, it's about life. It's not about police work, it's about humans who have a very tough job to do, who end up dealing with many people under the worst conditions and kinds of stress.
My love affair with this show has been difficult, this isn't a show that's easy to love. NBC often mistreated the show-- have you ever heard of a show that had 9 episodes in it's first season, and a mere 4 in it's second? Poor promotion, poor timeslots, frequent preemptions . . . these things only made fans of the show more stubbornly devoted to the show, I think.
Of course the show changed over the years, too. Castmembers departed (or were let go, grrr) and new faces were added to the mix. Results overall were mixed. But still I watched, even as the show declined. Yet even at the show's worst, it was interesting and often better than anything else on the air. Fans still wax poetic about the first three or four seasons . . . but there are episodes in later years worthy of high praise indeed. The episodes just got fewer and far between as it went on.
On the whole, the show was, IMHO, the best drama to grace the small screen. It certainly had the best pilot episode of (perhaps) any series. The brilliant first season alone earned the show a major place in television history.
What's to love about the show? Humor, intelligence, few copouts. Believable settings, groundbreaking camerawork, a fabulous cast, and terrific guest stars. Again, words don't do it justice, it's time for me to stop trying to explain. If you're a fan, you know what I mean. If not . . .
Just watch it already.
You can find out what episodes are available on videotape or DVD on the Video FAQ page.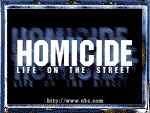 This Homicide Life on the Streets ring site is owned by Laurel Krahn.
[Skip Previous] [Previous] [Next] [Skip Next]
[Random] [Next 5] [List Sites] [Join]