Daniel Baldwin, of course, played Detective Beau Felton on Homicide. You can read a full list of his credits at the Internet Movie Database.
Vampires, directed by John Carpenter, with James Woods, et al.

One of DB's bigger roles in recent years. It's campy and vapire-y and some folks like it quite a bit.
Trees Lounge, written and directed by Steve Buscemi (Gordon Pratt!). Starring Buscemi, Carol Kane (Mrs. Gwen Munch!), Debi Mazar, Mimi Rogers, Samuel L. Jackson, Chloe Sevigny, & of course Daniel Baldwin.

Baldwin's good in this quirky dramedy. There's a commentary track by Buscemi.

Available on .
Other Movies That Daniel Baldwin is in:
In Pursuit -

and


Active Stealth -

and


Silicon Towers -


Desert Thunder -

and


Love Kills -

and


On The Border -


The Pandora Project -

(with Tony Todd)
Phoenix -

and


The Invader -


Yesterday's Target -


Mulholland Falls -


Bodily Harm -


Family of Cops -

and


Car 54, Where Are You? -


Attack of the 50 Foot Woman -


Hero -

and


Knight Moves -

and


Harley Davidson and the Marlboro Man -

and

(with Giancarlo Esposito)
Nothing But Trouble -

and

Have you seen Daniel Baldwin in a movie? Was the movie good? How was Baldwin? If it's something good, let me know and maybe I'll add your recommendation or a lengthier profile to this page.
You can find out more information about Daniel Baldwin and chat with other fans (and sometimes with DB himself) at: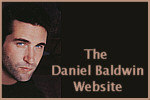 Return to the front page of the store.
This store was put together by Laurel Krahn, in association with amazon.com and emerchandise.com.
Comments? Additions? Corrections? Send them to laurel@windowseat.org.